Bathroom vanities can take a serious chunk out of a renovation budget. Given that a mid-range bath remodel can run upwards of $19,000, according to Remodeling's 2018 Cost vs. Value report, the prices shouldn't come as a surprise, but they often do. I was determined to not drop a small fortune during my recent bathroom remodel, but at first, that seemed like an impossible task. The vanities I kept crushing on were upwards of a thousand dollars (and often $2,000) and that often didn't include the counter or sink. So, yeah, no.
If you're looking for a reasonably priced option, try these instead:
Big Box Stores
I know, I know, you don't want your bathroom to look like a Home Depot ad. But when I finally thought to skip the Rejuvenation and Signature Hardwares of the world for something a little more modest, I scored my amazing deal at Menards. The style I found was similar to the kind of thing I'd been eyeing elsewhere for exponentially more money. It's worth browsing the online selection at Lowe's, Home Depot, and Menards—you might find some surprisingly stylish options not available in-store.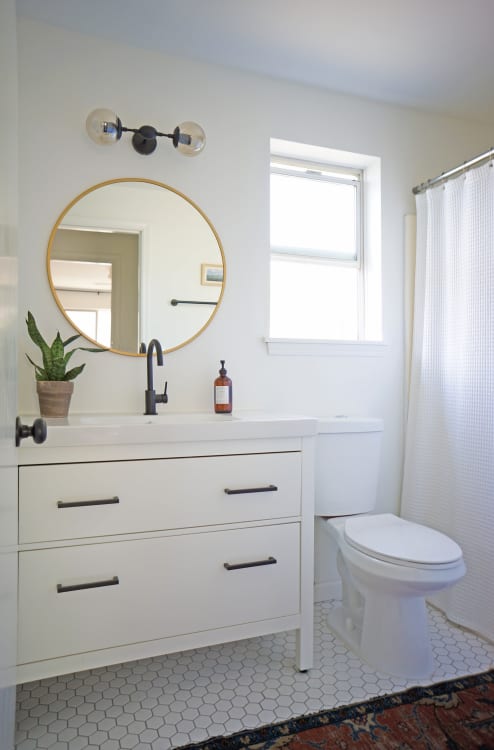 IKEA (Obviously)
No budget round-up is complete without the always-dependable IKEA. While you can still easily get into the several hundred dollar range there, you can just as easily find ready-to-assemble vanities priced as low as a hundred bucks. For a bit of a style upgrade, the sleek LILLÅNGEN would be perfect for a small bath and rings in at $199. As with most vanities, that doesn't include the faucet, but those come with friendly prices as well, starting at $24.99. Of course, you know the drawback: You'll either be putting this vanity together yourself or paying to outsource it somewhere like IKEA's TaskRabbit. There's also the emotional cost of a trip to the megastore to weigh.
Your Favorite Online Retailer
Chances are, wherever you like to shop for your home may be a source for vanities. And if it's a lower-cost retailer, the price could be very nice indeed. Joss & Main vanities start below $150, while prices at Wayfair, their sister site, start at $199. And yep, naturally Amazon also sells vanities; theirs start well below a hundred bucks. As with any online purchase, you'll want to tread carefully. What may look perfectly fine online may turn out to be poor quality once you unpack it. Reviews are a little scarce for some lower-priced vanities, so it's a bit of a leap of faith. You'll also want to read the fine print to see if you're getting a flat-packed shipment or a fully assembled vanity that you have to wrangle inside your house and into your bathroom.
Secondhand Sources
It's no secret that there are amazing deals on Craigslist, eBay, and Facebook Marketplace if you take the time to comb through their listings. But you can also browse IRL, at the treasure troves that are salvage shops, Habitat Restores, flea markets, or any other variety of secondhand dealers. How do vanities end up there? Most likely someone's doing the same thing you are—remodeling—and they can get a tax write-off by donating their old materials.
Sure, there may be some old, busted relics not fit for your space. But you may be surprised at what people offload. Maybe it's from a newer house with a new owner who has a particular taste and wanted to start fresh, or you might find a piece that just needs a little love and the owner wasn't into DIY. Whatever the case, you can often find a steal.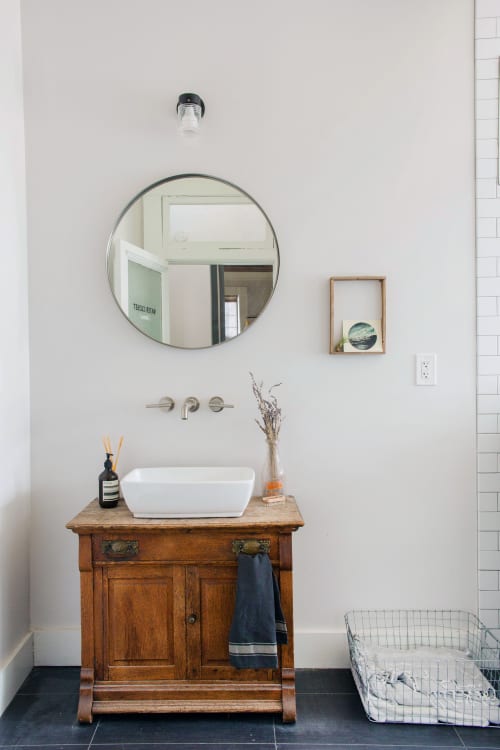 Repurpose
Upcycling or repurposing is another way to save big on your bathroom vanity—not to mention the perfect solution if you want something unique that you won't see in anyone else's home. If you're handy (and a project like this can be fairly advanced) or can get someone to help you, that gorgeous, peeling bureau you stumble across in an antique shop may just get a new life as your bathroom vanity. The trickiest part, they say, is fitting in the plumbing. If you can swing it though, this could be a seriously low-cost way to upgrade your bath.
DIY Options
Can't find just the right vanity? BYO! Build your own, that is, or enlist the help of someone who can. If your own carpentry skills are rusty or underdeveloped, hopefully you have a cousin, sister, or uncle willing to donate some elbow grease. Wendi of H20 Bungalow built her open shelf vanity for just a hundred bucks. You can follow the detailed tutorial on her blog, and download her building plan.
Love What You've Got
Who says you have to start all over? Sometimes your vanity just needs a coat of paint and some new hardware. After years of low-key disgust with an '80s oak veneer vanity in my old house, I devoted part of a weekend to applying a couple coats of Annie Sloan chalk paint in a dark blue, and swapping the hardware store cheap drawer pulls with whimsical ones. Boom—for well under a hundred bucks we had a fresh, new look. If I'd been slightly less lazy, I'd have gone all the way and painted the inside of the doors and added some fresh contact paper to the cabinet floor.
If you're as energetic as the thrifty blogger Jen at The Bachelorette Pad Flip, you can do an extreme makeover. Keeping and painting the base, she added a DIY tile top, new hardware, and new sink for what now looks like an all-new vanity.
Have you found a way to get a nice vanity for less cash? Please share!
This is is a syndicated post. Read the original at www.apartmenttherapy.com